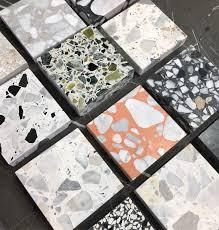 Terrazzo tiles are a popular floor covering that is often seen in medical institutions, schools, airports, convention halls, and other high-traffic areas. Terrazzo tiles flooring is composed of marble, quartz, granite, and glass fragments that are cemented together.
The primary advantage of terrazzo tiles flooring is their durability. They are very impervious to moisture and exceedingly durable. They may survive for years if put correctly on a sturdy, level base.
Another advantage of terrazzo tiles flooring is its ease of cleaning and maintenance. Facility managers and cleaning experts, on the other hand, should not mistake ease of maintenance with the absence of maintenance. Terrazzo tiles, like any other floor covering, must be cleaned, sealed, and cared for. A terrazzo tiles floor, when cleaned and maintained properly, will not only be durable but will also bring years of enjoyment.
Cleaning specialists are often contacted to repair an ancient terrazzo tiles floor. While it can be maintained in many of the same ways as conventional hard surface flooring, it does need some extra attention. As a result, the following five suggestions will assist you in restoring an older terrazzo tiles floor:
1. Begin by removing any floor finish or sealer that has been applied to the surface of the floor. Additionally, this will assist in removing any flaws, dirt, or heel marks. Due to the fact that terrazzo tiles floors are often large-area floor coverings, it is essential to use a strong stripper capable of removing many coatings of floor finish or sealer. This will simplify and expedite the job. Additionally, a green-certified floor remover is strongly advised. A green-certified stripper emits less odor, is less hazardous, and has a substantially lower effect on the interior environment.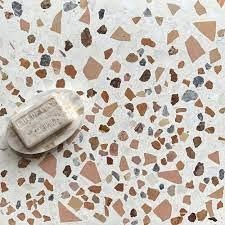 2. Once the floor has been removed, carefully rinse it. This procedure may need to be done twice or more. Now thoroughly check the floor before applying a finish. Ascertain that all finish has been removed and that all parts of the floor have been properly scrubbed and cleaned, including edges and corners.
3. From a distance, inspect the floor. This is a critical step that many cleaning specialists neglect. From a distance, the terrazzo tiles should now seem level and even. If there are any differences, this may indicate that part of the original finish has been retained on the floor. This will result in a blotchy look of the floor after the finish is applied. Clean these spots by re-stripping and rinsing.
4. Apply a hard-surface densifier/sealant intended to penetrate the terrazzo tiles. This is a one-time coating that provides stain resistance and protects the terrazzo tiles floor from moisture buildup and dirt tracked onto the floor. Additionally, it serves as the base for achieving a higher-gloss sheen on the floor.
5. At this stage, the terrazzo tiles floor should not need finishing. Utilizing a high-speed floor machine may assist in maintaining the floor and bringing the sealant's sheen to life. Visit http://stoneliquidators.net/use-these-tips-to-ensure-your-terrazzo-tiles-last-long/ to read about Using these tips to ensure your terrazzo tiles last long.
What are terrazzo tiles and why do they have such an unusual appearance? Terrazzo tiles are constructed using a concrete or resin substrate with small fragments of another material such as granite, marble, or ceramic. This versatility is what distinguishes these tiles, as manufacturers can combine and match a variety of materials to create a variety of finished products. Terrazzo tiles look stunning when integrated into most home design schemes. Continue reading to learn how to do this.
1. Use Warm Colors and Tones Throughout Your Design
Terrazzo-style tiles work well with warm color schemes due to their potential to seem 'cool.' These tiles are available in cool and neutral hues that may be enhanced with pops of color in your home design. Choose a color palette that features vibrant, dramatic hues such as pink, yellow, or green. Additionally, you may experiment with various shades of the same hue. Terrazzo tiles have a somewhat reflecting surface, which means they will reflect some of the color in the room.
2. Consider Including Stone and Wood in Your Design
While terrazzo tiles are manufactured, their multi-toned appearance gives the impression that they are made of stone. This allows them to work really effectively with the wood. In this case, the wood furniture becomes the focal point, while the tiles serve as a nice background. Terrazzo tiles can complement stone-based interior décor. When selecting stone decorations to complement these tiles, use more subdued materials with a more dramatic look to avoid clashing with the terrazzo tiles.
3. Use Subtle Textures in Your Design
Terrazzo tile may create an uncomfortably chilly atmosphere in a space. For others, this is the desired effect, and you may either embrace it or utilize texture to make it seem warmer. Velvet is a beautiful fabric that adds a sumptuous feel and softens a place. You can have velvet sofas, carpets, or if you're very deft, curtains. Numerous different fabrics have the same impact, and with a little study, you can use textures to your advantage.
Why should you pick terrazzo tiles?
There are nearly endless color and material variations — shards maybe marble, quartz, glass, or metal – and it is highly durable. According to John Krause, managing director of stone expert Diespeker, he is often tasked with restoring terrazzo tiles that are more than a century old. Additionally, since terrazzo tiles are manufactured from offcuts, it is a sustainable alternative for decorating. You can read more about why should you pick terrazzo tile by clicking here.
Consult an Interior Designer About Your Interior Design Project
Interior design may be intimidating, even more so if you are working alone. Allow us to assist you with your tiling. At Tile and Bath co, we offer a large selection of terrazzo tiles from which to pick. If you're unclear about the kind of tile you want for your project, our advisors can assist you in selecting the appropriate tile. Therefore, contact us immediately to discuss your tiling project.
Final thoughts
This article should point you in the proper way when it comes to repairing or refinishing your worn-out terrazzo tiles. You can also use the tips mentioned here to beautify your home and impress your guests.